The MCGRAW Trial

Study tests whether changing the gut microbiome of cancer patients will boost success of checkpoint inhibitor treatment for advanced melanoma
Overview 
The microbiome is made of up trillions of organisms in the body. In particular, microbes in the gut that have been found to exert a profound control over the immune system. As immunity plays a major role in fighting cancer, it's no wonder that scientists have found a connection between cancer and the gut microbiome.
Jennifer Wargo, MD, a Parker Institute for Cancer Immunotherapy physician-researcher at MD Anderson Cancer Center, was one of the first scientists to find an association between the makeup and diversity of the gut microbiome and how well cancer immunotherapy treatments work in patients.
The Parker Institute for Cancer Immunotherapy is now collaborating with MD Anderson and Seres Therapeutics on a clinical study to explore this idea further.
About the Study
This clinical study asks whether altering the microbiome of cancer patients using an oral microbiome therapy will change how they respond to checkpoint inhibition therapy.
Researchers will be sequencing the gut of all patients before, during and after treatment to check on the types and amounts of microbes present. As part of the study, they are also performing additional assays and imaging to track the state of the patient's immune system.
It is a phase 1b randomized, blinded study with a placebo control. The Parker Institute is sponsoring the trial.
Drug Combinations
All patients will receive nivolumab, an FDA-approved checkpoint inhibition drug that targets the PD-1 protein.
In addition to nivolumab, patients will receive either a placebo or SER-401, a pill that contains a mix of bacteria that were shown in Dr. Wargo's research to be associated with response to checkpoint inhibitors.
Patient Population
Investigators aim to recruit 30 patients with metastatic melanoma.
The MCGRAW Trial – Altering Gut microbiome to improve IO response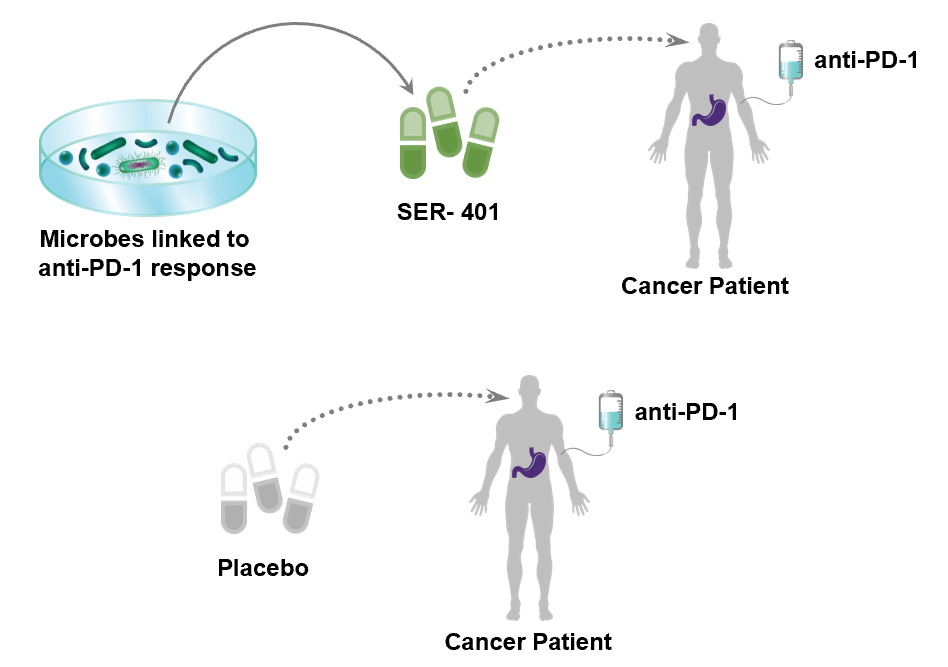 Where the Trial is Open
The trial opened in January 2019 at The University of Texas MD Anderson Cancer Center and the Angeles Clinic in California. It is expected to open at additional sites in the future.
For more information on this trial (NCT03817125) visit clinicaltrials.gov.