Bringing together top early career researchers in cancer immunotherapy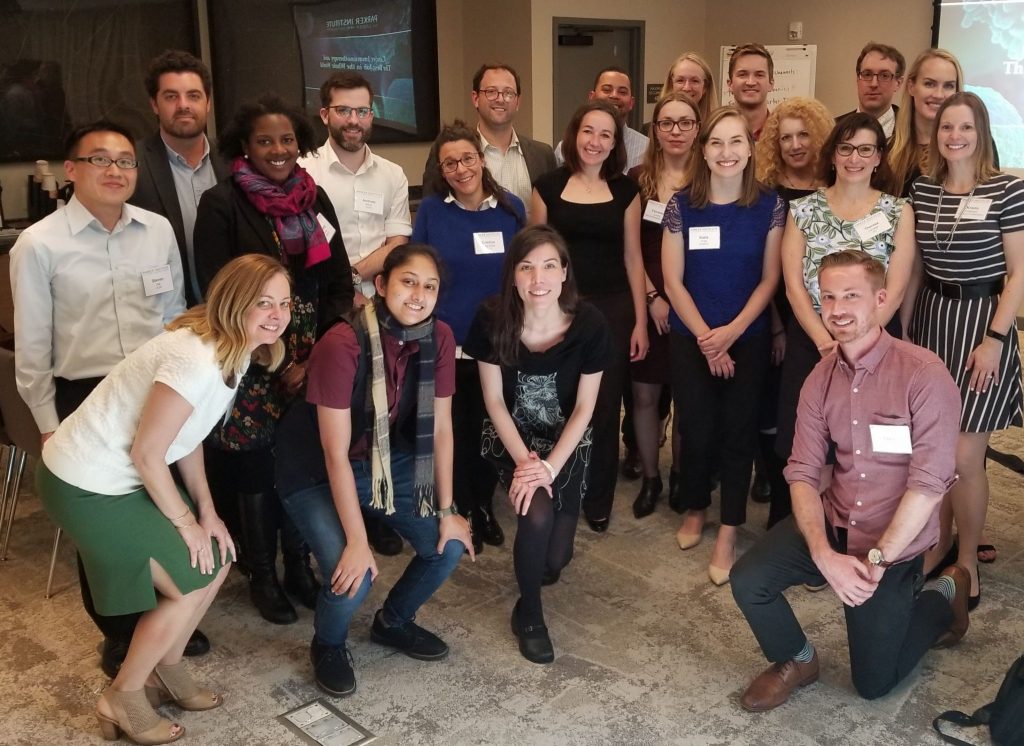 SUMMARY
PICI convened 15 of the top young investigators in cancer immunotherapy to help foster collaboration among the next generation of leading scientists.
ATLANTA – One by one they filed into the hotel conference room and grabbed a name tag.
"Hi, I'm Kristin from the Hutch."
"Saul, City of Hope."
"I'm Melody, from Marcel's lab at MSK."
At the Parker Institute for Cancer Immunotherapy's (PICI) Young Investigator Retreat, they may have walked in strangers, but walked out colleagues.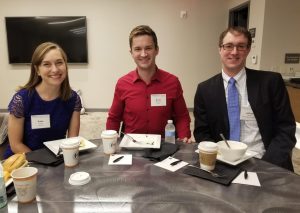 "I'm sure I'm going to talk to Katie more," said Kristin Anderson, PhD, of Fred Hutchinson Cancer Research Center, after seeing Katie Yost of Stanford University present about her work. "The ATAC seq stuff is really cool."
The retreat took place Saturday before the 2019 American Association for Cancer Research (AACR) meeting. The event brought together the brightest young minds in immunotherapy so they could get to know their peers in the field, exchange ideas – and maybe even spark new ones.
Before the event began, PICI Vice President Theresa LaVallee, PhD, challenged them to think beyond the walls of their own labs, outside their own little bubbles.
"We want big bold research," LaVallee said. "Bring us your ideas."
A BREEDING GROUND FOR COLLABORATION
The scientific discussions ran the gamut from natural killer cells to cancer vaccines, artificial intelligence to the microbiome. Breakout sessions focused on using informatics in cancer research, how to design clinical trials and career development.
The day began with a stimulating panel discussion of the latest advances and challenges in CAR-T and cellular therapy.
Theodore "Scott" Nowicki, MD, PhD, from the University of California, Los Angeles, spoke about different ways of keeping CAR-T cells active for a longer time in patients with solid tumors. Anderson spoke about a cell therapy that targets ovarian cancer.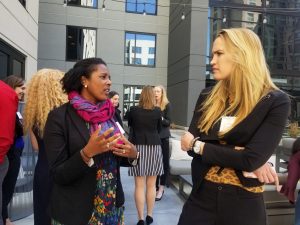 Melody Smith, MD, of Memorial Sloan Kettering Cancer Center, described her work on the relationship between the gut microbiome and CAR-T response, which may involve vitamin B biosynthesis pathways.
"Each of us are looking at ways to target limitations with CAR-T from so many angles. From structure to the microbiome, I think that there is a natural breeding ground for collaboration for some of us in the future," Smith said.
The bonding continued after the day sessions were over.
During dinner, Andrew Rech, PhD, of the University of Pennsylvania connected with Jeffrey Ward, MD, PhD, of Washington University in St. Louis.
"He's a couple years ahead of me, just starting his lab, and his perspective on the field was great to hear," Rech said. They talked about treating lung adenocarcinoma with checkpoint inhibitors and how best to figure out whether or not a patient will respond to treatment.
"Hearing how Jeff actually thinks about this biomarker to make treatment decisions in the clinic as a thoracic oncologist was so valuable to me," Rech said. "I definitely plan to reach out to him in the future, and I doubt we would have met otherwise."
BUILD A PROFESSIONAL NETWORK
In her closing lecture, titled "Why Cancer Immunotherapy is the Best Job in the World," PICI Vice President Lisa Butterfield, PhD, noted just how much personal relationships play an important role for those looking to make progress in science, or any field.
"Recognize the opportunity and make it a success," Butterfield said. "Always be building a professional network."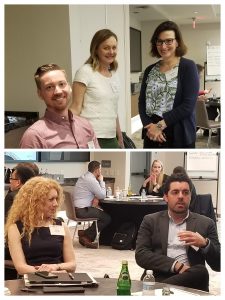 As those words of wisdom left her lips, it dawned on several of the attendees that they could act on both pieces of advice that day, no waiting required.
"I could easily envision working with many of the investigators from the retreat, including Judith Agudo at Dana-Farber and Amir Horowitz at Mt. Sinai," said Saul Priceman, PhD, of City of Hope. "I was honored to be part of this esteemed group of investigators and look forward to collaborating with them in the near future."
Thanks to everyone who participated in the retreat this year:
Judith Agudo, PhD, Dana-Farber Cancer Institute; Kristin Anderson, PhD, Fred Hutchinson Cancer Research Center; Reema Baskar, Stanford University; Amir Horowitz, PhD, Icahn School of Medicine at Mount Sinai; Kate Markey, PhD, Memorial Sloan Kettering Cancer Center; Theodore "Scott" Nowicki, MD, PhD, University of California, Los Angeles; Stephen Pai, PhD, University of California, San Francisco; Avery Posey, Jr., PhD, University of Pennsylvania; Saul Priceman, PhD, City of Hope; Cristina Puig-Saus, PhD, UCLA; Andrew Rech, PhD, of the University of Pennsylvania; Melody Smith, MD, Memorial Sloan Kettering Cancer Center; Stephanie Dougan, PhD, Dana-Farber Cancer Institute; Jeffrey Ward, MD, PhD, of Washington University School of Medicine; Katie Yost, Stanford University
PICI: Samantha Bucktrout, PhD, Lisa Butterfield, PhD, Christopher Cabanski, PhD, Shirley Dang, Jennifer Haslip, Theresa LaVallee, PhD, Christine Spencer, PhD
Cancer Research Institute: Vanessa Lucey, PhD, MBA