A Q&A with One of Cancer Immunotherapy's Leading Minds
When she was 7 years old, Padmanee "Pam" Sharma ended up in the hospital in a coma with a broken arm. Though she didn't know it at the time, that fateful trauma would in part lead her down the path to becoming a renowned doctor herself.
For two months her doctor cared for her, eventually bringing the inquisitive youngster with him around the hospital in Guyana where he tended to the sick.
"I would sit on his shoulders when he went on rounds," Dr. Sharma said. "I saw how he took care of everyone. I thought it was just the most wonderful thing."
Now an award-winning physician-scientist in America, Dr. Sharma is breaking barriers instead of bones. As both a medical doctor and doctorate in research, she is leading a new wave of research in the field of immunotherapy, which unleashes the immune system to fight cancer.
As the co-director of the Parker Institute for Cancer Immunotherapy at The University of Texas MD Anderson Cancer Center, Dr. Sharma tirelessly works to advance the science of immunotherapy, bridging the gap between the lab bench and hospital bedside.
A major part of her work with the Parker Institute is finding biomarkers that could indicate when a patient may benefit from cancer immunotherapy drugs called checkpoint inhibitors. Working with Dr. Sharma, her colleagues at MD Anderson and other partners, the Parker Institute launched a clinical trial to identify multiple possible factors that could one day help make these drugs effective for more types of cancer – and more types of cancer patients.
Dr. Sharma sat down recently with the Parker Institute to talk about immunotherapy biomarkers as well as what inspires her to keep searching for answers.
Why are cancer immunotherapy biomarkers so important?
With the success of immune checkpoint therapy, we were under the impression that the immune response can be manipulated the same way in every cancer patient. We did not have a full understanding of how different tumor types behave in different patients.
In order to successfully treat more cancer patients, either with one type of immunotherapy or some combination, it will be important to have biomarkers to inform us which patients should get which therapy. Biomarkers are part of that precision medicine approach.
Where are we in terms of finding the "right" biomarkers?
Right now, there are many biomarkers that researchers are looking at: the number of CD8 T-cells in a tumor, levels of PD-L1 expression, interferon gamma gene signature. We also know that tumor mutational burden, or TMB – how many mutations a tumor has, essentially – may play a role. And already we've seen drugs approved based on a biomarker for microsatellite instability.
As individual biomarkers, these help us to understand which patients may have a higher probability of responding to immune checkpoint therapy. We may need to look at multiple factors combined to help find the best predictive biomarkers. And it may very well be that one biomarker or biomarkers will not work for all types of cancer.
While there are biomarkers to help identify patients who will respond to immunotherapy, we know some tumors are resistant to immunotherapy. So we also need biomarkers to help define resistance mechanisms, too.
I would also say we need to start looking beyond the T-cell. Across the field, we have been very T-cell focused. It's time to evaluate other cells in the immune system: myeloid cells, dendritic cells and natural killer cells.
You're working on a Parker Institute-sponsored study to find immuno-oncology biomarkers, essentially using a clinical trial to help understand the underlying biology. What has it been like working with PICI on this project?
I don't think this trial would have happened without the Parker Institute. The people that make up the Parker Institute – they're just the best and the brightest. It's an honor for me to be a part of it.
This type of trial is a vision that I've had my whole career: using clinical trials to understand mechanisms.
We've had some success, but we're at the tip of the iceberg. More studies are needed to help define mechanisms and identify biomarkers.
Who are your greatest influences?
Lloyd Old [often considered the grandfather of modern cancer immunotherapy] definitely had a huge impact. From Lloyd, I learned about translational research: He stressed the importance of basic science and mouse models but, he equally stressed that the human immune response is different. To help our patients, we need to study human immune responses as well in order to develop successful immunotherapy treatments.
I had other mentors as well. My high school biology teacher, Mrs. Tobias at Hilcrest High School in Queens, New York, taught me scientific curiosity is a wonderful thing.
Also, my doctor, who took care of me when I broke my arm at age of 7, made me want to become a doctor. He taught me about compassion. I was born in Guyana and I came here as an immigrant when I was 10 years old. When I was 7, I had a traumatic fall and I was in a coma for about a week and was in the hospital for about 2 months. He took care of me for those two months. I would sit on his shoulders when he went on rounds. I saw how he took care of everyone. I thought it was just the most wonderful thing.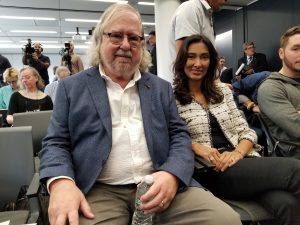 Another person who has influenced me is Jim Allison, who has been my collaborator and partner in everything I've done for the past 15 years. Jim's taught me a lot about having confidence in my scientific vision.
My patients also have a profound impact on me everyday. I've learned courage from them. They ground me and provide me with the determination to work hard everyday.
Last but not least, my three children have taught me a lot. They remind me to take the time to listen to the other person, even if they may be a child or teenager, and to value their perspective. They also remind me to take a break from work and relax and connect emotionally with the people that I love.
They are a great reminder that there is a life outside every check box that you need to check.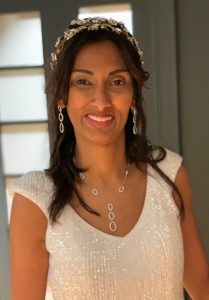 You've been doing the victory celebrations around the world with your husband, Jim Allison, who recently won the Nobel Prize for his work in immunotherapy. What has that been like?
It's been so surreal, I don't have words. [At the ceremony in Sweden], I felt like a princess. And I'm not a princess-y person.
We had our own private attaché, our own private driver. We got the opportunity to meet privately with the king and queen while attending a dinner at the palace.
I pinch myself. Even before that, my career has been incredible.
But I always have to pinch myself. I'm so grateful.