The AMADEUS Trial
Overview  
Checkpoint inhibitors are a class of cancer immunotherapy drugs that have revolutionized the field of oncology, offering patients a chance at long-term survival or remission. However, little information exists that can guide doctors deciding if and when a patient would benefit from taking a single checkpoint inhibitor or a combination.
Taking one versus two checkpoint inhibitors is an important decision for a patient, with different implications. One drug may work for some, but not all. A combination may work better, but come with more side effects and a higher cost. That is why finding the right biomarkers that indicate a response to checkpoint inhibitors, and immunotherapy overall, has surged in importance and become a major area of study at the Parker Institute for Cancer Immunotherapy.
About the Study
Parker Institute scientists are investigating multiple potential biomarkers to determine whether a cancer patient would benefit from treatment with a single immune checkpoint inhibitor or a combination.
Part of the question is when a tumor is vulnerable to checkpoint inhibitor drugs. In general, a "cold" tumor does not respond to immunotherapy, while a "hot" tumor does. In this first-of-its kind prospective clinical trial, researchers seek to better define what truly makes a tumor cold or hot, with one factor being the amount of cancer-fighting T-cells that have penetrated the tumor.
To do that, scientists will use a variety of assays, imaging and other technologies to examine:
Different proteins expressed on the surface of the tumor using multiplex immunohistochemistry
The underlying genetics via genomic analysis (whole exome and RNA sequencing)
The state of the immune cells using single cell analysis (CyTOF)
Whether the gut microbiome influences responsiveness to treatment
This uniquely comprehensive information, along with clinical patient treatment outcome data, will help create a clearer picture of the patient's immune system and its ability to respond successfully to immunotherapy.
Patient Population
Investigators aim to enroll up to 200 metastatic cancer patients in this trial. Patients with any type of solid tumor are eligible to enroll.
Patients who have received checkpoint inhibitors in the past are allowed on the study. However, the last course of treatment prior to entering this study cannot be anti-PD-L1 therapy.
Drug Combinations
Patients will be treated based on results from their tumor biopsy. Those found to have a "hot" tumor will receive a single checkpoint inhibitor, nivolumab (nivo). Patients with a "cold" tumor will be treated with a combination of nivolumab plus ipilimumab (ipi).
AMADEUS TRIAL – Evaluating Biomarkers for Cancer Immunotherapy Response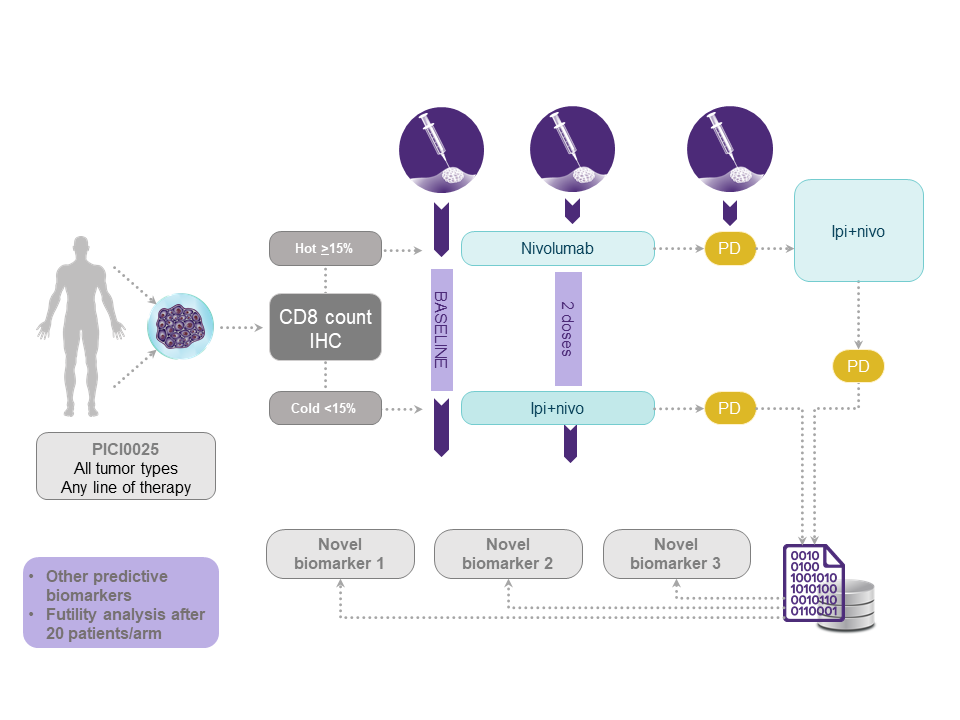 Where the Trial is Open
The University of Texas MD Anderson Cancer Center, the lead PICI site for this study, started enrolling patients in September 2018. The first patient was treated in October. The trial has since opened at the Dana-Farber Cancer Institute, Memorial Sloan Kettering Cancer Center, Stanford Medicine, the University of California, Los Angeles and the University of California, San Francisco.
For more information on this trial (NCT03651271), visit www.clinicaltrials.gov.