Meet the Informatics team that enables cancer immunotherapy research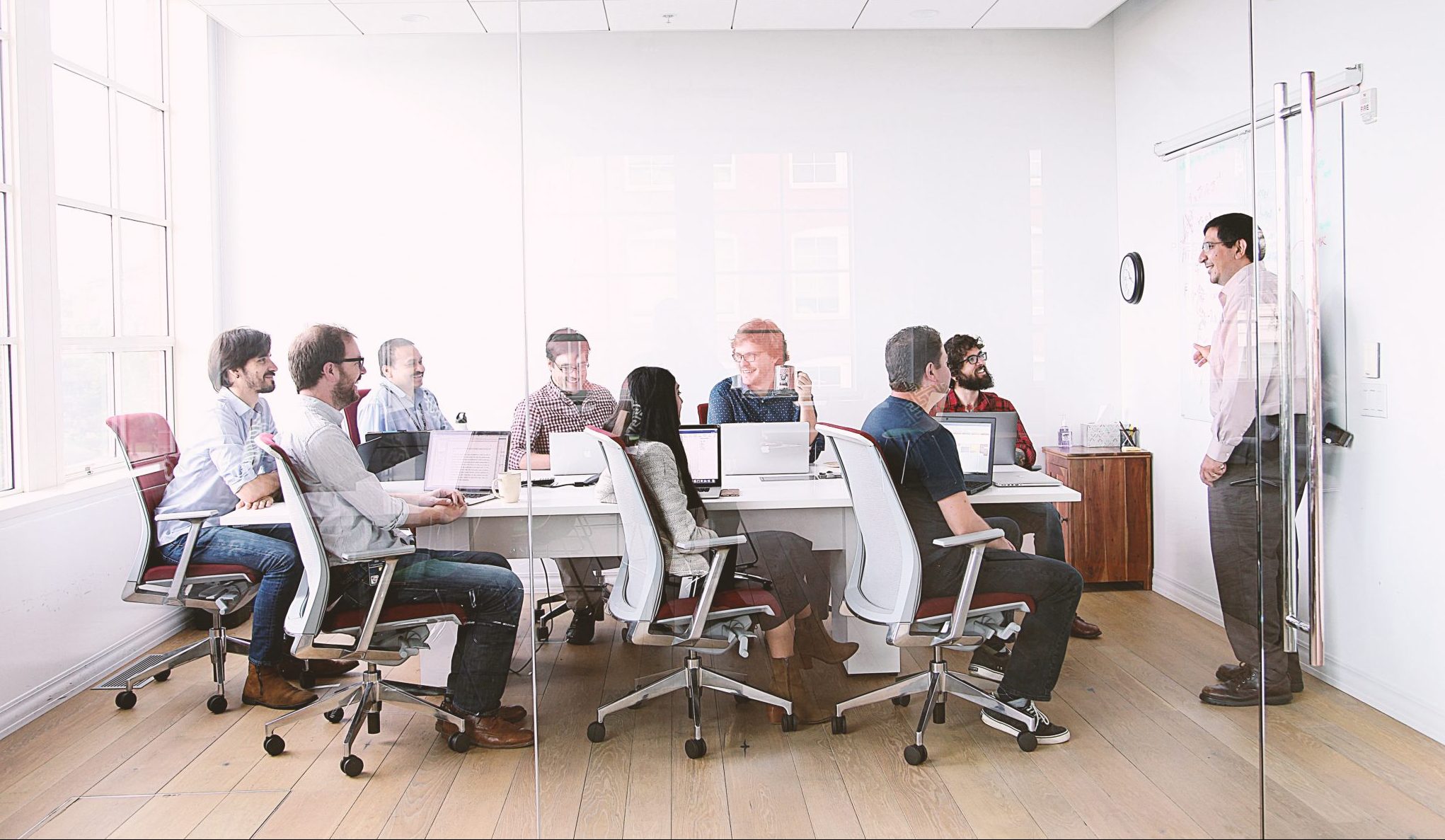 At the Parker Institute, we believe there can be a world without cancer. We created a unique model that brings scientists together to collaborate on bold ideas. And, we provided an infrastructure where the most advanced technologies and computational resources are infused into our network to accelerate discoveries and bring therapeutics to patients faster.
A key differentiator of the institute's model is our in-house informatics team. The group is dedicated to harnessing data collected from Parker Institute studies and drawing conclusions to improve patient responses to immunotherapy.
They are a diverse group of individuals, cherry-picked for their expertise and brought together to make sense of data generated by the institute's 300+ researchers, to run our first sponsored clinical trial and to bring new technologies to our network of investigators.
The energy that emanates from the team is tangible. Their voices carry from the glass-encased meeting rooms where they test ideas over animated discussion. Endless clacking from keyboards and mouse clicks emit from where the team sits in the back room. Sounds of snapping fingers accompany their teammate Danny wherever he walks, as if the percussion powers his thoughts.
The team is led by the talented systems immunologist Nikesh Kotecha, PhD. A serene leader with a laid-back, open-to-discussion style, he has aligned his team to one overarching vision: use data to inform better treatments for patients and do it faster than ever.
Maximizing data
To accelerate discovery, the team concentrates their efforts on getting the most out of all the data collected by the Parker Institute.
They are involved in every step of the research process – from clinical trial design, to data collection to interpretation, to informing the precision and robustness of the data. They create systems to collect and extract insights from the clinical trial data.
The right patient samples are precious, so each one is used to its fullest. By taking many measurements on patient tumor and blood samples – what they call "deep immune profiling" – the team hopes to identify factors that correlate with better responses to immunotherapy. They've worked with every data-type imaginable in immunology.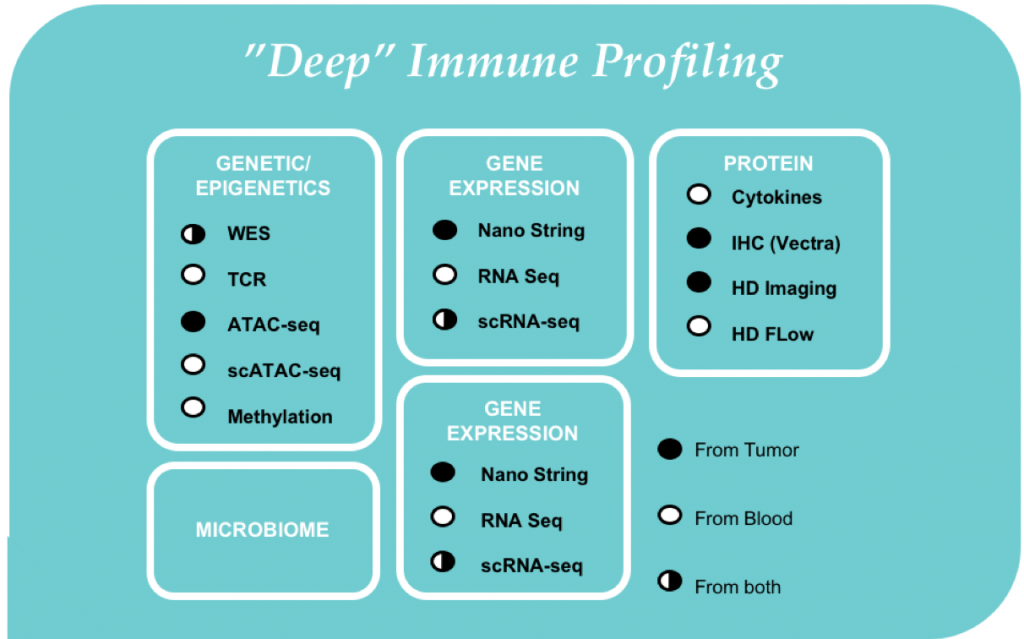 To study the immune system in new ways, the team is always on the lookout for new technologies that can deliver greater insights. They partner with companies to evaluate cutting-edge, sometimes pre-market, technologies and test them out in the labs of the institute's cancer center partners. They work on defining standards and computational approaches that allow for a quicker uptake of these powerful new tools.
At the same time, they don't want to reinvent the wheel. The team recognizes the wealth of information that already exists from public datasets like the Human Genome Project and the growing body of scientific literature. They make the most of existing data by absorbing the information in an automated way to easily query the data.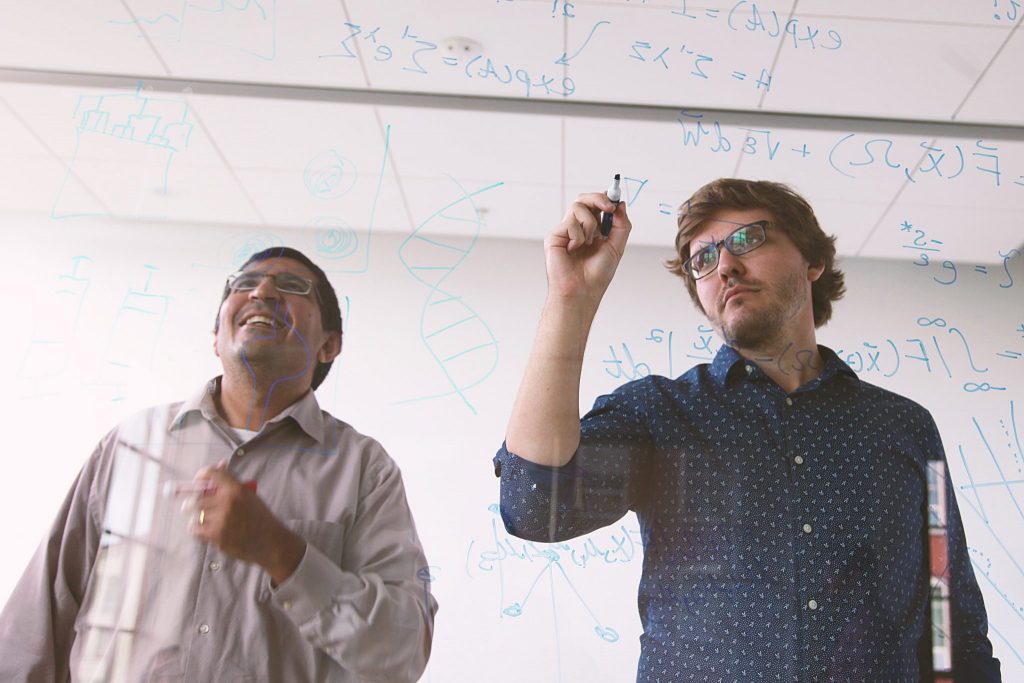 A perfect demonstration of the team's efforts at work is the recent multi-center pancreatic clinical trial the Parker Institute launched in collaboration with the Cancer Research Institute this past August. The phase 1b/2 trial, which combats the nation's third deadliest cancer, explores a novel combination of two immunotherapies and two traditional chemotherapies to activate the immune system to attack cancer.
Lead investigators at the University of Pennsylvania and Parker Institute leaders charged the informatics team to secure the technology that would be used to conduct the trial.
Reimagining technology
Despite researching a variety of options, the team realized there was a lack of "out-of-the-box" functionality for storing and analyzing clinical and molecular data in an integrated fashion. They set out to assemble the systems needed to run the trial, developing new pieces as required to fill the gaps.
The team imagined one umbrella system to collect patient's clinical information, track and manage clinical trial tumor and blood samples, gather measurements from tests performed on these samples and pull in data from already-existing public literature. As if that wasn't daunting, there was an urgency to get the trial running quickly to give pancreatic cancer patients, often with short prognoses, access to immunotherapy treatment options. By August, in fact. And by then it was already February. Time was ticking on a six-month countdown.
The team quickly architected a clinical data entry and management system, which clinical staff at University of Pennsylvania, Memorial Sloan Kettering Cancer Center, The University of Texas MD Anderson Cancer Center and University of California, Los Angeles, would use to document information about patient health and any samples collected from the patient.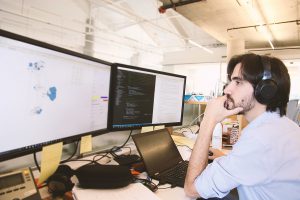 Despite the short timeframe, the team saw starting from a blank slate as an opportunity and made room to innovate. One example was a system for tracking clinical samples that would replace a great deal of manual input, making it easier for clinic staff and eliminating potential data input errors common to other systems. The design effort was led largely by scientist Pier Federico Gherardini.
Once implemented, the system showed benefits immediately. "Because of the way we designed the system, we were able to quickly determine that a mix-up happened with some samples that might not have been caught for couple months," said Gherardini.
An added benefit to designing the system fresh and in-house was that it could be improved to better serve the needs of the trial sites. The informatics team works in step-sync with the clinical operations team running the trial who are in close contact with the staff at the treatment sites. They collaborate regularly to refine the technology.
"It's rare to see this kind of real-time collaboration in academia or industry. At PICI, all functions of a trial management team are able to get into one room, allowing us to be nimble and have the conversations we need to move quickly," noted the trial's program manager Jaclyn Lyman.
She added that "it demonstrates a remarkable paradigm shift in how we are collaborating, innovating and ultimately streamlining our ability to deliver trials to patients faster. It highlights the spirit PICI was founded on."
To determine what kinds of data will be gathered on the patient samples, the informatics team has been closely collaborating with the study's lead investigator Robert Vonderheide, MD, DPhil, director of the Abramson Cancer Center of the University of Pennsylvania, his team and experts across the Parker Institute network.
"They not only understand the biology but possess the technological know-how to answer the scientific questions and further the conversation," said Vonderheide. "The technology they engineered has helped the clinical trial run smoothly, but more importantly ensures that the data we collect from the trial will be useful in progressing our understanding of how we can crack pancreatic cancer, a highly deadly disease."
He finished by stating he was "impressed by the knowledge and ingenuity" of the informatics team.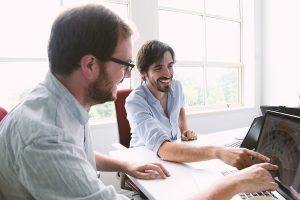 The team is prepared, too. In the year leading up to the trial, they've been working with PICI researchers to develop tools to analyze all forms of immunological assay data to not only help them with their discoveries, but also to assemble the knowledge base needed for this trial. The team now has the experience and tools for every type of measurement they hope to use in the trial.
While the team has accomplished a lot, there is always more to do. Ongoing efforts include building pipelines to quickly analyze the rich data gathered from deep profiling of patient samples and linking them to meticulously noted patient medical records.
"We are working to smooth the process to correlate the data from, say, a gene expression assay to what medication a patient was taking, allowing our team to ask intelligent questions of the data and be able to draw conclusions faster," notes Gherardini.
On the horizon for the informatics team
The Informatics team plans to use what they learn from this trial to inform the next trial design. But beyond that, they have a grander vision in mind – to be the centralized source of data on cancer immunotherapy to truly affect change in treatments for patients.
Data will get bigger and deeper, and they aim to make the most out of what they're collecting, says Kotecha. They're preparing by putting together processes, pipelines and frameworks to automate and scale as needed. There will be newer methods and approaches and they will keep adapting.
Why? Because the stakes are high and they believe data and collaboration are the keys to answering cancer's unsolved questions.
Meet the Team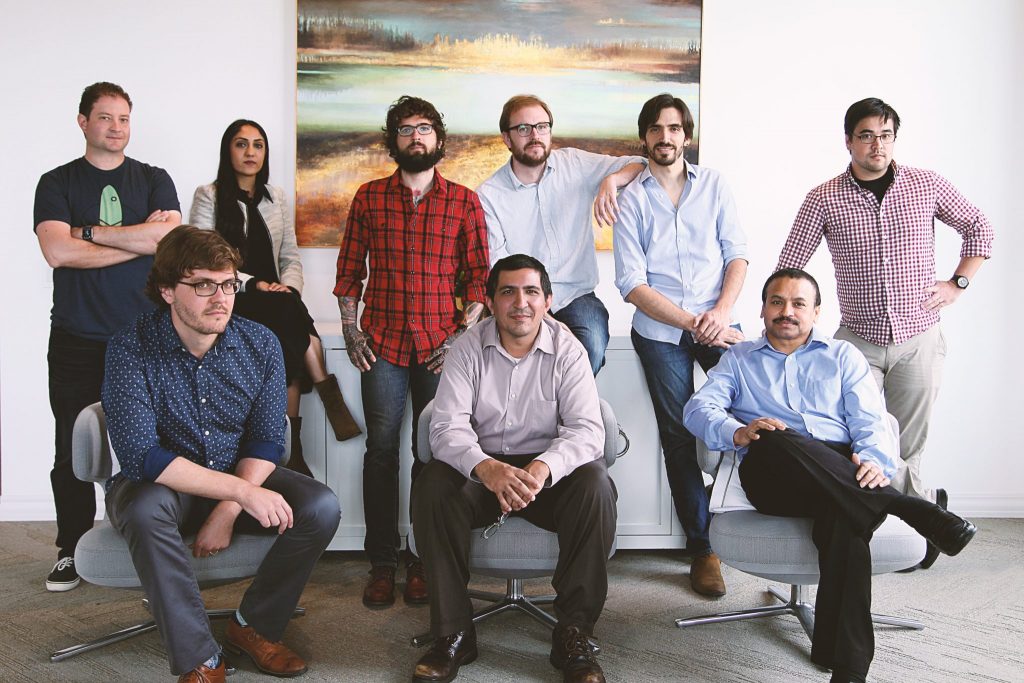 Nikesh Kotecha
Vice President, Informatics
Education
2008: PhD, Biomedical Informatics, Stanford
1999: BS, Biomedical Engineering, Boston University
Prior experience
Serves as adjunct faculty in the Systems and Computational Immunology Program at Stanford. Is a co-founder of Cytobank Inc., an analytics company for single cell technologies. Served in various positions in development, field application services and technical marketing at TIBCO Spotfire Inc.
Did his thesis and postdoctoral work in the lab of Garry Nolan, PhD, at Stanford.
In his words
"I'm proud of the group that's come together at the Parker Institute. We're fortunate to have people who are passionate about the field, want to make an impact and are willing to do whatever it takes to drive the mission."
Why cancer
"For me, the question is not just why cancer, but 'how immunology?' Unlocking the potential of the immune system to combat cancer is what's exciting. The work we're doing will also be critical to learning how the immune system can affect cardiology, obesity and other areas. There is a world of impact."

Nicholas Bayless
Research Scientist
Education
2017: PhD, Immunology, Stanford University
2011: MS, Biotechnology, New York University
2010: BS, Molecular Biochemistry & Biophysics, Yale University
Prior experience
Trained with Catherine Blish, MD, PhD, at Stanford studying virus immunity. Researched HIV/AIDS at Yale and nonprofit organization Avatar Biotechnologies, in partnership with the International AIDS Vaccine Initiative.
In his words
"We are at our best when we can marry our expertise to the data and drive collaboration. As an institute, we drive collaboration by providing an environment where researchers can share data freely and without fear of retribution, and that is a unique offering in biomedical research."
Why cancer
"I believe that we can use deep data to broaden the population of cancer patients for which cancer immunotherapy is a viable standard of care."

Sri Bolisetty
Executive Director of Technology
Education
1993: MS, Computer Science, University of Louisiana at Lafayette
1991: M.Tech, Artificial Intelligence & Robots
1989: BE, Electronics & Communications Engineering, Osmania University, India
Prior experience
Previously led informatics applications at City of Hope Cancer Center and served in a variety of technologist roles at Elan Pharmaceuticals, ReturnPath and other organizations.
In his words
"We're going to find the best technology platforms scientists can use to do their best research."
Why cancer
"A disease such as cancer consumes humans financially, emotionally and takes a toll on an entire community. We need to find a cure."

Robin Kageyama
Postdoctoral Research Fellow
Education
2017: PhD, Immunology, Biomedical Sciences, UCSF
2007: BS, Biochemistry, Marlboro College
Prior experience
Trained in Mark Ansel's lab in UCSF examining miRNA in immune responses.
In his words
"PICI is unique in that it's bringing in all kinds of data. We're able to challenge data and ask bigger questions."
Why cancer
"I think there are targeted, powerful and personalized contributions that data science can bring to the table in treating cancer."

Pier Federico Gherardini
Associate Director, Technology Development
Education
2009: PhD, Cell Molecular Biology
2006: MS, Bioinformatics, University of Rome Tor Vergata
Prior experience
Trained as postdoctoral fellow with Garry Nolan, PhD, at Stanford studying experimental and computational approaches to single-cell analysis.
In his words
"I strongly believe that we can get greater insights by having multiple brains approach the problem from different angles."
Why cancer
"Many of my friends and family are affected by cancer."

Robert Schiemann
Data Engineer
Education
2013: MS, Bioinformatics, UCSF
2011: BS, Biology and Computer Sciences, Stanford
Prior experience
Previously worked at TuneIn as a Software Engineer and was a bioinformatician at AI company Ayasdi and Genentech.
In his words
"I take huge amounts of raw data from clinical trials and process it so analysts can use it to tell a story."
Why cancer
"I want to reduce suffering. Cancer is low-hanging fruit."

Puneet Sidhu
Informatics Intern
Education
2017: MPH, Behavioral Sciences & Health Education, Emory University
2015: BA, Spanish and Biology, University of Redlands
Prior experience
Interned in Garry Nolan's lab at Stanford and at cytometry analysis company Cytobank.
In her words
"I'm annotating datasets of patients with cancer that have undergone immunotherapy. Afterwards, I draw comparisons between variables that could help inform further research for effectively treating patients with immunotherapy."
Why cancer
"Health and happiness are two rights that I believe everyone should have."

Danny Wells
Senior Data Scientist
Education
2016: Postdoctoral Fellowship, Quantitative Developmental Biology, UC Berkeley
2015: PhD, Applied Mathematics, Northwestern
2010: BA, Mathematics, Carleton College
Prior experience
Trained as a postdoctoral fellow with Nicole King, PhD, at UC Berkeley, studying evolution of animal multicellularity. Previously a PhD student studying systems biology, machine learning, tumor immunology and mathematical modeling.
In his words
"I'm really proud of our team. We've been able to work alongside PICI investigators to accelerate science – to ask new questions and answer them with integrative data analysis."
Why cancer
"On a personal level, I hate that cancer tears families apart. On a scientific level, cancer is one of the most complex, challenging diseases. Every cancer cell is unique, but they're all evolving, acting independently and together to evade the immune system."


Mark Winter
IT Support / Executive Assistant
Education
2004: BS, Computer Science, Business Administration, Monterrey Institute of Technology
Prior experience
10 years of experience at nonprofits related to HIV, older adult health and cancer, namely On Lok Lifeways and the Flowers Heritage Foundation.
In his words
"From a young age I was involved in the community. In my hometown in Mexico, my father partnered with organizations to bring pediatric vitamins and food to families with underweight children. I've carried on that legacy serving nonprofit organizations for over a decade."
Why cancer
"With the current technological advances, I think we have a shot at fighting it."