From immunotherapy to the microbiome, one scientist's journey to find a cure for cancer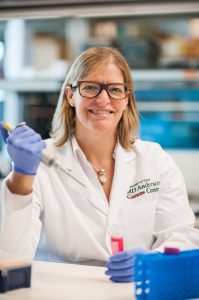 As she strode down the hall of the hotel to speak to a magazine editor for her umpteenth interview of the week, Jennifer Wargo, M.D., looked down at her iPhone to check for other missed calls.
"Gosh," she said. "I've never been so famous!"
After her landmark research on gut bacteria and cancer immunotherapy was published in November 2017, some dubbed the Parker Institute researcher the "microbiome maestra." But this former nurse turned surgeon-scientist at The University of Texas MD Anderson Cancer Center, says we are just beginning to learn about our body's "second genome" (as the microbiome is sometimes called). She is on the forefront of studying how the microbiome is linked to diseases such as cancer and can affect the body's response to cancer treatments called immunotherapy.
In collaboration with the Parker Institute and Seres Therapeutics, Dr. Wargo and a team at MD Anderson will be leading a groundbreaking clinical study to test whether taking capsules of "beneficial" bacteria could help improve the response to immunotherapy drugs known as checkpoint inhibitors. These blockbuster treatments are designed to help a patient's immune system kill tumors. However, these drugs only work for 20 to 30 percent of patients – a stat she's hoping to change through a potential microbiotic treatment regimen.
While her microbiome research has gotten her the most recognition of late, Dr. Wargo publishes frequently on melanoma, pancreatic cancer and breast cancer, racking up two dozen awards along the way. In 2017, she won a $750,000 Stand Up to Cancer Innovative Research Grant through the American Association for Cancer Research for her microbiome work. In 2014, The University of Texas System named her one of its Rising STARS. She has also been honored by Harvard University and the Society for Melanoma Research.
The recognition is well-deserved. While relatively early in her career, the 48-year-old has already made significant contributions to the understanding of melanoma genetics and how immunotherapy can be used to treat melanoma, said her former mentor Antoni Ribas, M.D., Ph.D., the Parker Institute's director at the University of California, Los Angeles. In working with her during her research fellowship at UCLA, he came to see what many recognize as one of Dr. Wargo's unique strengths: a warmth and compassion for patients that helps drive her success as a clinician and researcher.
"She is a great physician-scientist because she cares about understanding why things happen to her patients, and how can she improve their lives," Dr. Ribas said.
Jennifer Wargo, M.D., MMSc
Parker Institute investigator at MD Anderson Cancer Center
Hometown: Abington Township, Pennsylvania
Undergraduate Degree: Biology, Nursing Gwynedd-Mercy College
Master's Degree: Harvard University
Medical School: Medical College of Pennsylvania
Residencies: Massachusetts General Hospital
Fellowships: University of California Los Angeles, National Cancer Institute
Dr. Wargo also turns out to be a fierce advocate for questioning how science can be done better, faster and in a more innovative way, said her colleague Elizabeth Burton, scientific project director of MD Anderson's Melanoma Moon Shot™. For the gut microbiome study that lead to these seminal publications, they had to devise an entirely new way to collect, catalog and analyze feces samples from patients, and to perform fecal transplants.
"The microbiome – everything about the trial is completely new," Burton said. "We had never done fecal transplant at MD Anderson. We had to learn. All of us."
They faced many challenges in setting up a whole new infrastructure to conduct studies on the microbiome, a relatively new field of inquiry within oncology. But that was exciting rather than intimidating to Dr. Wargo, Burton said.
"That's the thing that's great about Jen: the challenge of learning something new was not something that scared her."
You could say it took guts.
Q&A with PICI Researcher Jennifer Wargo, M.D., MMSc
This has been edited for length and clarity.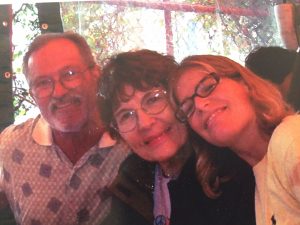 What spurred your interest in medicine and science?
My dad was a professor of mathematics. My mom was a nurse. I used to go around and see patients with her when I was a kid. So I was inspired to go into health care and research by my parents. It certainly shaped who I am.
Who are your greatest inspirations, either in your work life or personal life?
Definitely Steve Rosenberg, who I worked with at NCI, but there are so many people.  Toni Ribas was also a great inspiration to me, and continues to be a great mentor me to me every day. Pam Sharma and Jim Allison inspire me every day. Who inspires me the most? Probably the patients who are going through this.
And you know, I saw it firsthand. It's personal. The battle against cancer is personal.  I lost both my parents to cancer. My mom was diagnosed with pancreatic cancer during my first faculty appointment at Harvard.
My sister called me while I was teaching residents and students at Harvard one day and told me that she went to the ER for back pain and some GI symptoms. She thought she pulled a muscle in her back. The doctors did a CT scan, and saw that she was full of tumors. A biopsy showed pancreatic cancer. She underwent standard of care treatment with chemotherapy, but passed away only six months after diagnosis. It was heart-breaking to watch her and my family go through this – and I wanted to find a better way to treat cancer.
For my dad, it was different. He was diagnosed with multiple myeloma during my research fellowship with Toni Ribas. My dad was getting standard of care treatment but had awful side effects. I asked Toni what to do, and he suggested that I take my dad to a major medical center for treatment. I took him to Dana-Farber Cancer Institute where he was seen by Dr. Ken Anderson and was started on a proteasome inhibitor. It totally changed his life, and he had nine really good years. It was a clear example of how clinical trials can benefit patients, and what a miracle these therapies can provide to patients.
You were a nurse before becoming a surgeon and researcher. What is different about being a nurse versus being in the lab? How has being a nurse contributed to how you approach your work now?
As a nurse, I think you're really with people in a unique time in their life when they're really vulnerable. It's the same for clinicians. It's a privilege, and something we need to be respectful of. I always consider my nursing background when I care for patients, and couple it with hope and enthusiasm for the new opportunities and advances afforded by research.
How has immunotherapy changed the lives or prognosis of patients with advanced melanoma?
Immunotherapy has revolutionized treatment for patients with metastatic melanoma and for many other cancers. We've seen patients who were told to get their affairs in order. They come see us….and they're still alive 10 years later.
The immune system is a powerful thing.
If you weren't a physician-scientist, what would you do?
I love being a physician-scientist – I consider it a calling, a vocation. It's hard to imagine being anything else, but I suppose if this was not an option I would be in nursing, science or would be a full time artist. I love art – and enjoy drawing, painting and photography.
Speaking of, we heard you surf! Is that true?
Yes! I surf – although not as much as I used to. When I moved out to California, I traded in my Jeep Cherokee for a two-seater Mazda Miata convertible, learned how to surf, and my hair got a little blonder. I lived in Santa Monica and would hurry home after a long productive day of research to watch the sun set.
What other hobbies do you have?
Above all, I love spending time with my partner and our 3 children – Scout, Kai and James. Our lives are chaotic but wonderful. I learn something from them every day. In addition to this, I love running, spinning and yoga. When I have a little extra time, I do enjoy cooking. But extra time is hard to come by these days! A good problem, I suppose.
If you could talk to your parents right now, about your work, what would you say?
Thank you for showing me the power of wanting to learn more, caring about other people, having a positive outlook and attitude.