At this year's American Association for Cancer Research Annual Meeting (#AACR19), we witnessed a multiplicity of microbiome-immunotherapy trials, hosted our second annual PICI Young Investigators Retreat and even saw a bit of PD-1 pandemonium.
But this was a special AACR meeting for the Parker Institute for Cancer Immunotherapy for other reasons: PICI celebrated a series of firsts, both historical and present-day.
Promise for Pancreatic Cancer
On the Sunday of AACR, PICI investigators and partners unveiled early but promising interim data from the PRINCE pancreatic cancer study combining an anti-CD40 antibody, nivolumab and chemotherapy. These were the first Parker Institute clinical trial results ever presented at a major medical meeting, and the result of a truly collaborative effort by Parker Institute staff, principal investigators from our seven centers and partners that included Apexigen, Bristol-Myers Squibb and the Cancer Research Institute.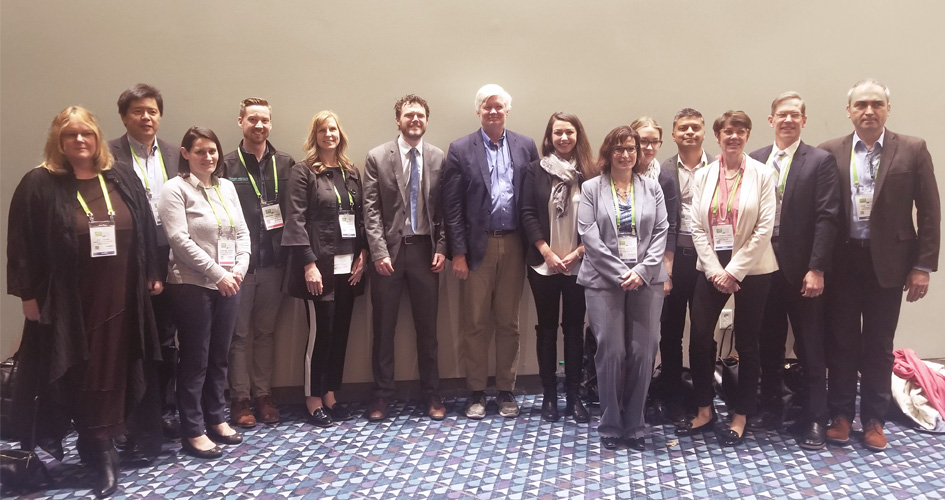 More than a dozen scientists from these institutions watched together from the audience as Mark O'Hara, MD, from the University of Pennsylvania, stood at the dais. Partway through the presentation, he stopped on a graph showing how much tumors had shrunk in 20 out of 24 patients given the combination therapy.
"You could sense how collectively proud everyone was, all of us who had worked together on the study," said PICI Clinical Program Manager Jaclyn Lyman, who has worked on the project since its inception. "It was a defining moment, both for the study and for PICI, seeing the fruits of our collaborative model exemplified."
"You could sense how collectively proud everyone was….It was a defining moment."- Jaclyn Lyman, PICI
Celebrating CTLA-4
PICI CEO and President, Jeffrey Bluestone, PhD, took home the AACR-Irving Weinstein Foundation Distinguished Lectureship award for bringing new and revolutionary ideas to cancer research. His work in the late '90s on the checkpoint CTLA-4 challenged dogma at the time and ultimately laid the foundation for the first checkpoint inhibitor for cancer, ipilimumab. He gave not one but two lectures at the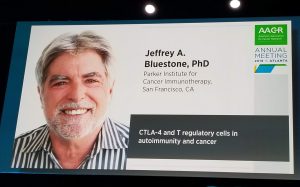 meeting, delving into regulatory T-cells and their role in maintaining balance in the immune system.
During one star-studded panel, Bluestone, Alan Korman of Bristol-Myers Squibb, and PICI Directors James Allison, PhD, of MD Anderson Cancer Center, and Jedd Wolchok, MD, PhD, of Memorial Sloan Kettering Cancer Center, recounted the history of how ipilimumab came to be the first checkpoint inhibitor approved by the U.S. FDA for cancer treatment, changing the course of medicine.
"This was a monumental event for all of us," said Dr. Wolchok.
Biomarkers for Immunotherapy Response
In her first AACR meeting as a PICI vice president, Lisa Butterfield, PhD, presented on immunotherapy biomarkers and clinical trials. One of her favorite presentations also touched on biomarkers. Genentech's Kobe Yuen, PhD, presented on cytokines as biomarkers for response to checkpoint immune therapy, reporting that some urothelial cancer patients who had elevated blood levels of IL-6 or IL-8 or both did worse on anti-PD-1 immunotherapy. An antibody against IL-6 – tocilizumab – is already in use to control side effects such as cytokine release syndrome that can follow treatment with CAR-T, she noted. "It would be very interesting to see if using antibodies for IL-8 along with cell therapy might also help control side effects," Butterfield said.
The Microbiome: Fecal Transplants and Cancer Immunotherapy
The microbiome and its ties to immunotherapy remained a hot topic at the meeting. Presentations by an Israeli research group and Giorgio Trinchieri, MD, of the National Cancer Institute won the attention of Christine Spencer, PhD, a Parker Institute research scientist. In these groundbreaking new studies, early results showed that fecal microbiota transplants – or FMTs – could be used to alter the microbiome of cancer patients, and in some cases was linked to better response to immunotherapy.
"So far in these trials, there were no concerning adverse events, and patients appeared to be responding," Spencer said. "Data from one representative patient showed dramatic immune changes early on treatment. As someone who's studied correlations of the microbiome and now seeing it play out in the clinic, I'm thinking, holy cow, this could work. Overall, very encouraging."
Spencer also presented her own stimulating research at the meeting about how diet and probiotics are tied to how well patients respond to anti-PD-1 immune checkpoint therapy, likely due to changes in the microbiome.