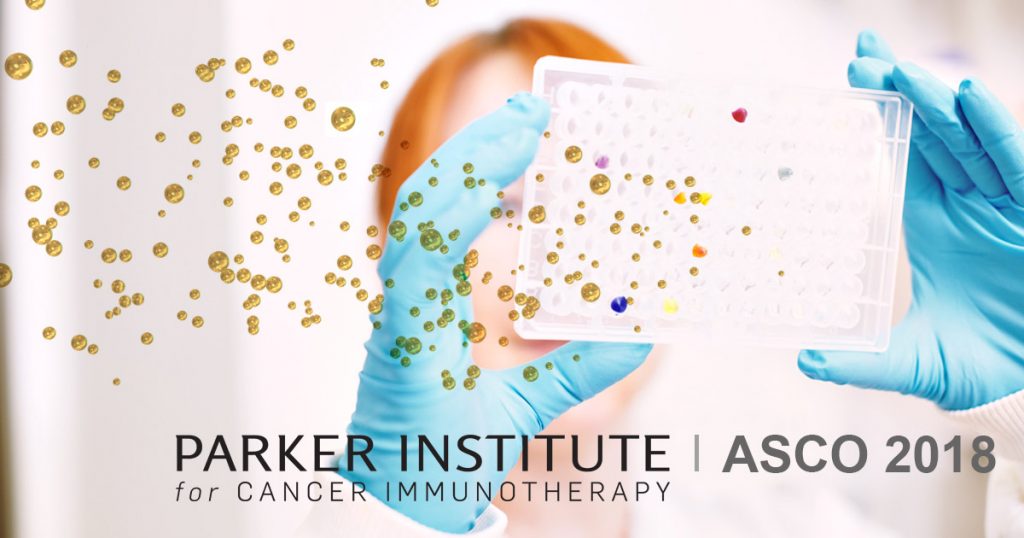 Immunotherapy once again made headlines and packed the halls at this year's ASCO meeting, oncology's largest conference. In addition to the major checkpoint inhibitor results for lung cancer, here are some immunotherapy takeaways and trends we observed that made this year's Parker Picks for ASCO 2018: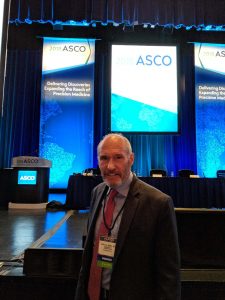 The next big things in CAR-T, according to Carl June: In a crowded session Monday afternoon, Carl June, M.D., Parker Institute center director at the University of Pennsylvania, gave a look at several CAR-T clinical trials on the horizon. Many targeted solid tumors, which have been challenging to treat with immunotherapy. What caught our eye: the so-called armored CAR approach for prostate cancer. June's team created a souped-up T-cell that targets the prostate-specific membrane antigen (PSMA) but also blocks transforming growth factor beta, a known inhibitor of killer T-cells. The result is a more robust CAR-T that is exhaustion-resistant. But what comes next? During the Q&A, June called out engineered natural killer cells, or NK cells, which tend not to cause autoimmune reactions. "NK cells are going to be the next big thing," June said.
A hint of promise for cell therapy in solid tumors: One of the biggest immunotherapy splashes was not related to the meeting at all, but a publication in Nature Medicine by Steve Rosenberg, M.D., Ph.D., of the National Cancer Institute. Using a patient's own tumor-killing T-cells (in this case, tumor infiltrating lymphocytes, or TILs), he helped put a breast cancer patient in remission after her disease came blazing back following prior treatment. The results, rare but spectacular, demonstrated that cell therapy can indeed work in solid tumors with the right elements in place. "In my mind, this work provided proof of concept that if you can find the right antigen on the cancer that can be targeted by the immune system, then you can have dramatic responses," said Elizabeth Mittendorf, M.D., Ph.D., Parker Institute investigator at Dana-Farber Cancer Institute, where she is director of the Breast Immuno-Oncology Program.
Heating up cold tumors in triple negative breast cancer: The results for checkpoint inhibitors in breast cancer have been somewhat disappointing, with response rates hovering below 10 percent. Similar to other so called "cold" tumors, breast cancer shuts down immune cells and inflammation (the "heat") that immunotherapy drugs need to work. Scientists theorize that you may need to warm things up by using low-dose chemotherapy or radiation first, followed by checkpoint inhibitors, to get a good response. But which method works best?
A team from the Netherlands Cancer Institute conducted a small randomized study in metastatic triple negative breast cancer patients to find out. Among radiation, three chemo drugs and a control, doxorubicin yielded the best result: a 37 percent response rate overall when given with an anti-PD-1 checkpoint inhibitor. When combined with anti-PD-1, chemotherapy drug cisplatin yielded a 25 percent overall response rate.
More understanding of immune-related adverse events needed: The "Cancer Immunotherapy Today" pre-meeting sessions spanned two days. The longest session was dedicated to one topic: managing immune-related adverse events resulting from checkpoint inhibitors. The session moderators, including co-chair Ravi Madan, M.D., of the National Cancer Institute, helped provide insights to oncologists on how to recognize signs that can lead to a serious event, and more importantly how to prevent a serious event from getting worse.
For he's a jolly good fellow: Congratulations to Jedd Wolchok, M.D., Ph.D., Parker Institute center director at Memorial Sloan Kettering Cancer Center, for being named an ASCO Fellow! A tireless patient advocate and brilliant clinician-researcher, Dr. Wolchok has been at the forefront of immunotherapy advances. Kudos to him for his latest honor.