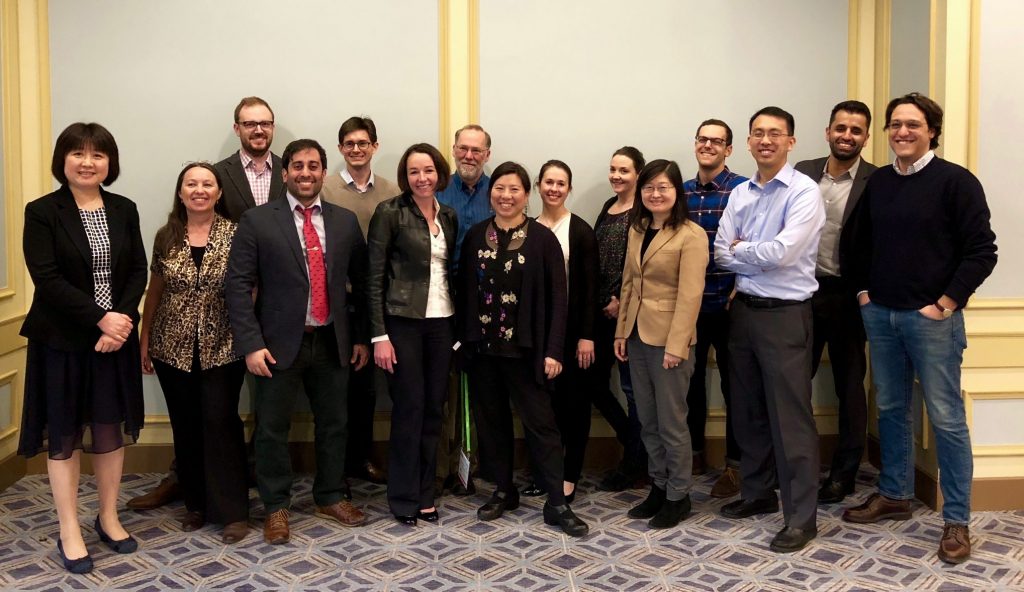 "I just struck up a collaboration with Matt Spitzer," Liang Deng of Memorial Sloan Kettering Cancer Center said of a fellow researcher and peer at UCSF, as we wrapped up our inaugural Young Investigator Retreat.
And this is exactly the type of outcome we had envisioned for the day.
The Parker Institute for Cancer Immunotherapy is dedicated to training the next generation of leaders in cancer immunotherapy, and this retreat is a new avenue we're using to foster collaboration among these rising stars.
We kicked off the day with a series of short "speed dating-like" presentations. Each investigator shared key insights on their research to spur dynamic discussions on topics from understanding immune responses to cancer using single-cell analysis to decoding t-cell exhaustion in human cancer.
Next, we heard from Nadine Defranoux, a program manager at the Parker Institute, who gave an update on our Tumor Neoantigen Selection Alliance that aims to identify the best algorithms to predict which cancer neoantigens can be recognized by and stimulate an immune response. Nick Bayless, a Parker Institute research scientist, also gave an overview of our Informatics team and highlighted ways the researchers could collaborate with us.
After lunch, our guest speaker, Catherine Wu, MD, a Parker Institute researcher at Dana-Farber Cancer Institute, shared her journey in cancer research and highlighted her work in personalized cancer vaccines. She also gave advice on the importance of mentorship and networking, and how they helped shape her career.
"Finding the right career path as a young investigator can be challenging," said Dr. Wu. "Some of the best advice I can share from my experience is to focus on a problem that you care about and to find a strong support network. I would not be where I am today without the support of my mentors, peers and family."
And although the day ran long, the investigators stayed engaged until the end, asking insightful questions and discussing the opportunity for thoughtful collaborations.
We talked with our young investigators to learn more about what inspired them after spending a day with their peers. Here's what they had to say.
Collaboration
"The most exciting aspect of the retreat was the convergence of observations and ideas. These types of interactions drive research forward and positively impact everyone's work. The Parker Institute is unique in its dedication to building an interactive research community." – Josephine Giles, PhD, the University of Pennsylvania
"I'm a clinical researcher so it's nice to see what others are working on in a lab setting, especially at other centers. The Parker Institute is one of the few mechanisms to collaborate in a friendly environment, and it's always invigorating to be around people who are just as passionate as you are about cancer research." – Alexander Shoushtari, MD, Memorial Sloan Kettering Cancer Center
"The Young Investigator retreat gave us the opportunity to see and discuss what colleagues are working on, and as a result, foster potential cross-institutional collaborations and idea sharing. This type of interaction encourages you to look at your research in different ways, which is key to all of us working together to push the field of cancer immunotherapy forward." – Denis Migliorini, MD, the University of Pennsylvania
"Small groups are best for collaboration because you have a certain freedom to ask questions and discuss research at a nitty-gritty level. It's also nice to get out of your bubble and see how investigators at other institutions are thinking about similar problems." – Anusha Kalbasi, MD, UCLA
Research Discussions
"The short presentations gave enough information for us to have interesting discussions on a wide range of topics including mechanisms of T cell exhaustion, neoantigen discovery, viral-based cancer immunotherapy, cancer genomics and clinical trials. We learned a lot from one another coming from different backgrounds, and some collaborative ideas emerged from these discussions. I also appreciate the opportunity to talk to PICI staff about the projects and infrastructures they are working very hard to develop and how we can collaborate on these projects and utilize these valuable resources. – Liang Deng, MD, PhD, Memorial Sloan Kettering Cancer Center
"The tumor microenvironment is complex and has so many different parts, so it's helpful to have researchers come together who are studying different aspects. That way we can really understand the coordinated response to tumors." – Stephanie Dougan, PhD, Dana-Farber Cancer Institute
"This is such a diverse group, and there is so much overlap in our research interests. Learning about research generated in other settings to see if there is common overlap has been really helpful." – Rachel Lynn, PhD, Stanford Medicine
Networking
"This retreat is an opportunity to network with peers with whom I've had little contact, and the intimate setting is better for forging new collaborations. This is the perfect forum to bring together young researchers from many top institutions." – Evan Weber, PhD, Stanford Medicine
"At the retreat I was able to mingle with people at my level, learn more about their work and identify ways we can collaborate. I also learned more about the Parker Institute and how it can help facilitate our research. I look forward to more future events like this." – Siwen Hu-Lieskovan, MD, PhD, UCLA
Career Development
"I'm grateful the Parker Institute put together this effort to support up-and-coming investigators. Networking with other folks at a similar stage is critical at this point in our development. Mentorship support and access to tools and resources that PICI provides is also key as we work toward becoming independent." – David Oh, MD, PhD, UCSF
"This was a great opportunity to exchange ideas and find intersections with our work. These individuals will continue to be our colleagues for decades to come, so it's helpful to establish relationships now so we can build on each other's ideas and drive the field in the longer-term." – Matt Spitzer, PhD, UCSF and Parker Fellow
Learn more about how we're supporting young investigators in cancer immunotherapy.