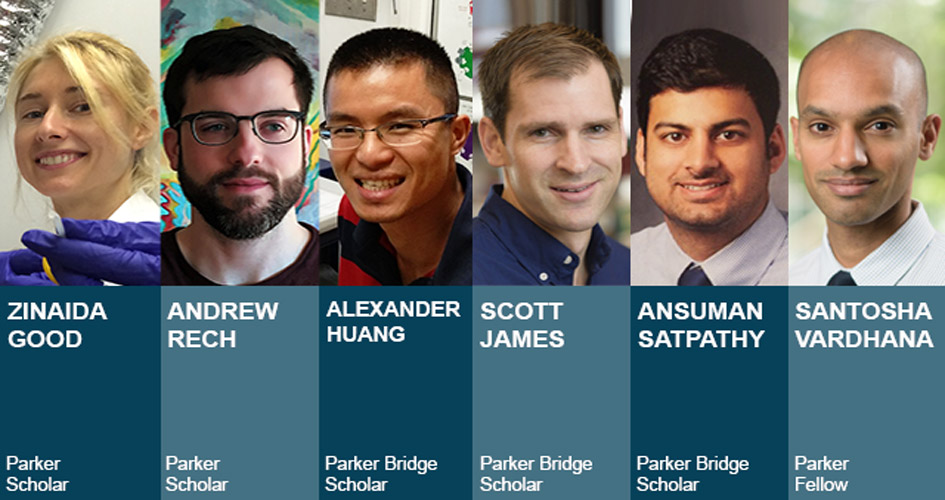 Every day, we work toward one goal: To develop breakthrough immune therapies to turn cancer into a curable disease. We take a unique approach by bringing together the top minds in cancer immunotherapy to tackle the most challenging questions in cancer research.
But we don't stop there. We also support the rising stars in our field by giving them the opportunity to train with the best scientists and help us transform cancer research.
In June, six exceptional young researchers joined our network as part of the Parker Scholars, Bridge Scholars and Fellows programs. We are investing a total of up to $3.46 million in funding, and also providing mentorship and resources, to help accelerate their research.
We talked with this year's young researchers to learn more about their research projects and to find out what they are looking forward to about the programs. Meet our 2017 Parker Scholars, Bridge Scholars and Fellows:
"I am excited to join a community of some of the best cancer immunotherapy scientists and work with them toward a common goal," said Zinaida (Zina) Good, a Parker Scholar and a Ph.D. candidate in computational and systems immunology at Stanford Medicine. "The level of support, not only financially, but also with data and analytics, administrative support and many other things, gives me the opportunity to contribute more to cancer immunotherapy research." Zina was inspired to study cancer immunotherapy when the first CAR-T trials started showing progress, so she left her job at a well-known biotech company to pursue her Ph.D.
Alexander (Alex) Huang, M.D., a Parker Bridge Scholar and postdoctoral fellow at the University of Pennsylvania, is excited to be part of a training program where he has access to mentors at his institute and at other top institutes across the country. "The Parker Institute has a tremendous amount of collaboration across research institutes, and this program gives me access to cutting-edge technology. All of this will help move my research forward," he said. Alex was recently the lead author of a paper in Nature, where he experienced the Parker Institute network firsthand by collaborating with a Parker Institute center director and co-director.
Scott James, M.D., Ph.D., a Parker Bridge Scholar and oncology fellow at Memorial Sloan Kettering Cancer Center, is using genetic engineering approaches to engineer T-cells to attack cancer while minimizing toxicity to patients. He's looking forward to being a part of a group of people all working toward the same goal of using immunotherapy to improve cancer outcomes. "The funding level is very helpful as it frees me up from writing grants, so I can spend my time working on research projects," he said.
"All three programs are programs are filling a critical need in the field," said Andrew Rech, Ph.D., a Parker Scholar and postdoctoral fellow from the University of Pennsylvania. "It's a tough transition for young researchers to make the jump from training to independently conducting their own research. We will all benefit from being able to interact with the diverse group of people in the Parker network." Andrew researches basic and translational tumor immunology to understand how immune responses against tumors happen at a molecular level, which could lead to more effective therapies.
Ansuman (Ansu) Satpathy, M.D., Ph.D., a Parker Bridge Scholar and a physician-scientist at Stanford Medicine, says that it can be challenging to pursue very high-risk and high-impact ideas early in one's scientific career, particularly as a physician-scientist when training is long and time is limited. "The Bridge Scholars program gives me the flexibility to pursue ideas I wouldn't be able to pursue without the additional funding, resources and access to the cancer immunotherapy community," he said. Ansu is investigating why cancer immunotherapy works in some patients and not others, and specifically, how genes are regulated in the tumor environment.
Santosha (Santosh) Vardhana, M.D., Ph.D., a Parker Fellow and medical oncology/postdoctoral fellow at Memorial Sloan Kettering Cancer Center, studies how changes in the way cancer and immune cells take up and utilize nutrients can hamper the immune cells' ability to recognize and eliminate tumors. He said, "receiving this level of funding from the Parker Institute allows a remarkable amount of freedom because it gives me time and opportunity to develop novel therapeutic strategies. If you're trying to achieve paradigm shifts in cancer immunotherapy, you need years to develop, test and prove ideas."
About the Programs
In 2016, we launched three programs, the Parker Scholars, Bridge Scholars and Fellows, to train the next generation of leaders in cancer immunotherapy.
The Parker Scholars supports graduate students and researchers entering their first postdoctoral appointment who are focused on high-impact, high-risk projects. The Parker Bridge Scholars supports senior postdoctoral investigators as they transition to faculty positions. The Parker Fellows supports senior-level researchers who have recently completed their M.D. or Ph.D. and are ready to establish a laboratory or independent program in cancer immunotherapy.
Parker Scholars, Bridge Scholars and Fellows receive more than funding from the Parker Institute. They also benefit from a collaborative network of leading researchers in immunotherapy, access to key resources including cutting-edge tools and technologies as well as early access to data from clinical trials and pre-published papers to guide their research. The Parker Institute model also removes barriers like grant-writing so investigators can focus on the science rather than administrative tasks.
This new class of young researchers joins current Parker Scholar Roberta Zappasodi, Ph.D., of Memorial Sloan Kettering Cancer Center, and two Parker Fellows, Katelyn Byrne, Ph.D., of the University of Pennsylvania and Matthew Spitzer, Ph.D., of the University of California, San Francisco.